Bikram Writing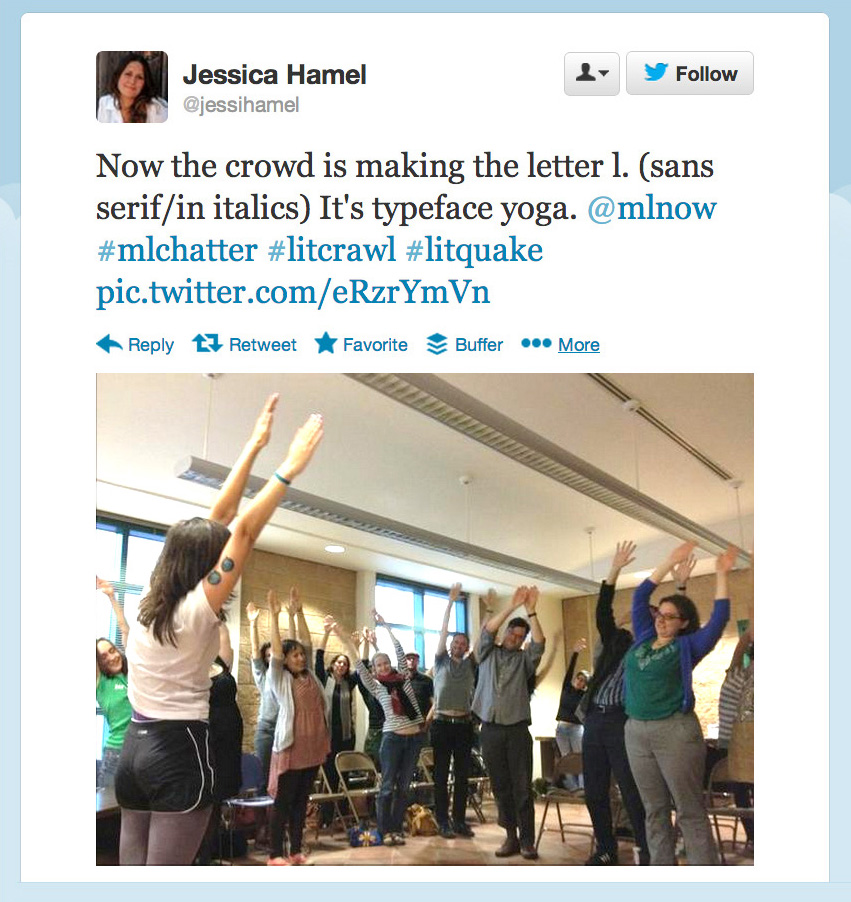 What: Bikram Writing is a writing class that incorporates elements of yoga. I lead fun writing exercises and structure the class to provide encouragement & maximize creativity.
When: 2009-Present
Roles: Founder & Teacher – conceiving, launching, publicizing, designing a curriculum, and teaching classes
Highlight: Leading stretches at the Mission Police Station as part of Litquake, an annual literary festival in San Francisco (pictured)
Story: Several years ago, I had an amazing 3-month run of doing Bikram Yoga 6-7 days a week.  I loved that it had structure and a community of people that attended regularly.  During this time I got very little writing done, to the extent I wished my writing practice had more in common with my yoga practice. Out of this wish grew a piece called Bikram Writing 101. While the piece was pretty tongue and cheek, published in McSweeney's on-line magazine, what compelled me to write it were some serious yearnings that still hadn't been quenched.
In September 2009 I held my first Bikram Writing class in my living room.  Classes have since met in places such as the San Francisco public library, in a classroom overlooking Valencia street, and at the design firm IDEO.
Bikram Writing has it all: Generative writing, a little physicality (movement), inspiration, out-loud sharing, camaraderie and community, and a generous, wise teacher. There's not really anything quite like this class! – Peg Alford Pursell, MFA, educator, author and curator of Why There Are Words reading series